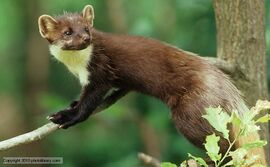 Pine Martens
(Martes martes) were once spread throughout Britian but now are confined to Scotland.
Description
Edit
It is cat-sized with rich brown fur and a bushy tail, it has a conspicuous yellowish throat and the male has a 45cm long body with a 23cm long tail.
Paw Prints
Edit
The Pine Marten's tracks are very similar to the Beech Martens' tracks but the Pine Marten's are slightly larger and bolder.
Their fore prints measure roughly 4cm long and 3.7cm wide. With the hind print being 4.5cm long and 3.5cm wide.
The Pine Marten has five claw prints visible on each paw but the inner toe is usually barely visible so only four toe pads show up properly.