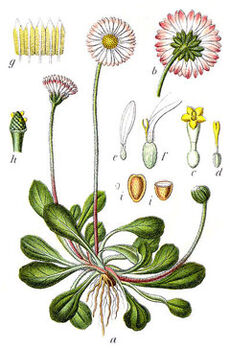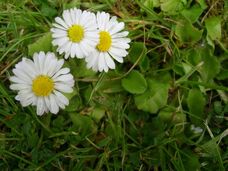 The
Common Daisy
(
Bellis perennis
) is a lovely little flower (or a pesky weed in other peoples minds) which is known for it's medicinal properties (see further down the page)
Description
Edit
It is a herbaceous plant (a plant whose leaves and stems die down at the end of the growing season) with hardy, spoon-like leaves which lie close to the ground and are evergreen.
The flower is produced on a leavless stem (2-10 cm tall) the flower is small with tiny white florets branching out frow yellow disk florets (the white florets can have a reddish colouration).
The head closes at night and re-opens in the day.
Traditionally they are used in salads but can be used added to soups and omelettes.
Medicinal Properties
Edit
This un-assuming plant is very medicinal and is anti-inflammatory, expectorant, and is a good tonic for colds.